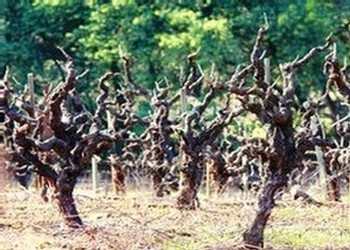 Biglieri Vineyard is located on the eastern edge of the Dry Creek Valley AVA just north of the Russian River Valley AVA border. Being located in a cooler section of Dry Creek tends to grow fruit that is similar to fruit grown in our Rancho Bello and Ottimino Vineyard (both in Russian River). The vineyard experiences slightly warmer conditions per season (more growing degree days) than our RRV vineyards. This extra kiss of heat grows wine that is elegant, restrained and balanced with fruit stopping just short of being forward. Biglieri Vineyard exhibits the best characteristics of Dry Creek and Russian River Zins.
The vineyard was planted in 1959 by owner Pio Biglieri, who farmed it until 2005. Pio still oversees the vineyard but the day to day operations are managed by long time farmer, Harold Hoskins. Harold lives on the northern edge of the vineyard and literally walks it every day.
Soil is a gravelly loam of sorts with layers of rich red loam mixed with small to medium sized rocks. The old vines roots reach deep to access the shallow water table allowing them to be dry farmed.
Biglieri is a quintessential old vine Zinfandel vineyard. The actual Zinfandel selection is unknown but legend has it that it was sourced from one of the original Zinfandel vineyards planted in the Dry Creek Valley.